Last night at ARNY, the New York Augmented Reality Meetup Group, there was an interesting presentation by a new startup called Meta.
They're about to launch a Kickstarter campaign for an AR glasses development kit.
My first impulse was that they were biting off more than they could chew and promising something that they couldn't reasonably deliver. Their current demo uses a uses a set of Epson Moverio glasses and a low-latency camera capable of performing finger-tracking. It's worth noting that they've already done something interesting here by feeding HDMI into the Moverio display. As far as I know, the standard Moverio doesn't have a user-accessible video input, and Meta had the glasses being driven from electronics in an opaque laser-cut box. That box presumably contained the heavily hacked Moverio handset, or an Epson device specifically for 3rd party hardware developers who want to feed their own signal into the display. And that's where it gets interesting. Meta's press release announces a partnership with Epson, which is the first big point to their credit. The second is that the esteemed Professor Steven Feiner, a long-time ARNY member, is also a member of their team. Third, their CEO claims to have a 30-page patent which he's coauthored with Professor Feiner.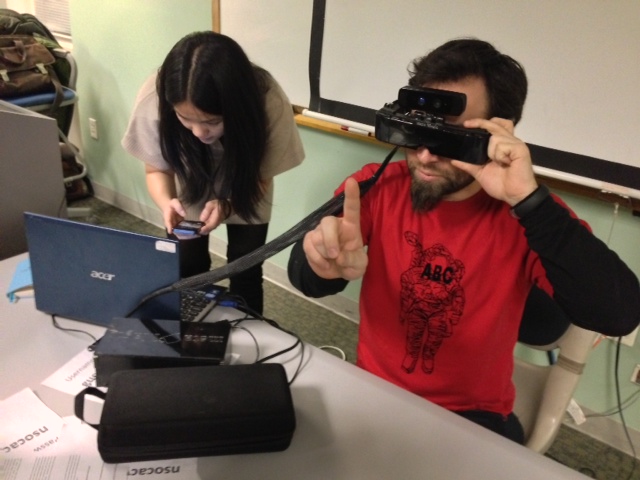 Meta has input from the their camera running into a fun little Unity demo that superimposes little glowing transparent tracking blobs on your fingertips when you hold them in front of the camera. The demo is imperfect, but my impression is that it was a quick hack so they'd have something to show at the meetup. My biggest critique is that the video output in their demo isn't scaled and cropped to align to the view through the glasses. I'd forgo displaying the camera feed and just use the camera's tracking data to superimpose the overlaid tracking indicators on a black background, which should appear close to transparent. Only close, but not perfectly transparent, because all of these transparent display glasses are still using backlit LCD microdisplays, where the backlighting still leaks through pixels that are set to black. Eventually this will be addressed by using emissive-pixel microdisplays like those shown by Microoled.
While he wouldn't comment directly, when I asked Meta's CEO, Meron Gribetz, if he'd approached Primesense about the Capri sensor, he said that he'd been at CES, implying that he'd at least gotten a look at it. In it's current form, the device isn't suitable for outdoor use, but who knows what new sensor technologies might come along between now and the eventual release of this young company's consumer product. That's just me thinking out loud. The Meta folks were pretty hush-hush about what their future plans might hold.
Overall, Meta's team has great energy and is admirably ambitious. It sounds like they've got the right patent, partnerships and people, so I've got high hopes for them. I'm looking forward to their Kickstarter campaign.
Hit up Meta's website and check out their cool launch video.